Types of Recumbents: Long & Short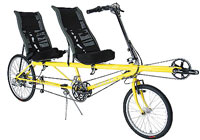 Photo: The popular Rans Screamer short-wheelbase tandem.
Recumbents come in two basic types: long and short. Long-wheelbase (LWB) recumbents have the front wheel in front of the bottom bracket (the bottom bracket is where the pedals are attached to the frame). Short-wheelbase (SWB) recumbents have the front wheel underneath (and usually behind) the bottom bracket. Including the length of the crankarms on a short-wheelbase recumbent, a long-wheelbase recumbent has an overall length about a foot and a half longer than a short-wheelbase recumbent. A short-wheelbase recumbent has the same length as an upright bicycle, which makes it appealing for storage and transportation.
The choice of long-wheelbase or short-wheelbase is a matter of opinion, personal taste and physiological requirements.
The long-wheelbase recumbent offers rock-stable handling characteristics, especially at speed. Cornering and straight line directional stability are generally excellent on long-wheelbase recumbents. Very little conscious attention is required to steer a long-wheelbase recumbent. The long-wheelbase recumbent has intuitive steering and a familiar seating position that requires no learning period. The long-wheelbase recumbent also has an inherently comfortable ride that requires no suspension, even with high-pressure tires and rough pavement. The long-wheelbase recumbent has a lower bottom-bracket (and therefore lower pedals) so there is no possibility of sleeping feet, which are sometimes caused by short-wheelbase recumbents with high bottom-brackets.
A long-wheelbase recumbent is the ultimate touring machine.
Some short-wheelbase recumbents have a shorter turning radius but the short turning radius is not an important advantage when riding on streets and highways. A long-wheelbase recumbent drives like a Honda Civic.
Short-wheelbase recumbents allow for a more laid-back seat position that ensures recumbent butt (see How Long Will it Take to Acclimatize to a Recumbent Bicycle? ) will not be an issue. Some cyclists prefer to be as laid back as possible. Other people prefer the more upright position for neck comfort on long rides. For people with conditioned neck muscles, the laid-back position will not be uncomfortable. It should also be noted that some long-wheelbased recumbents (i.e. "mid-wheelbased" recumbents) have a fairly high bottom-bracket and a shorter wheelbase.
Short-wheelbase recumbents generally have some heel overlap designed-in to meet performance requirements. The front wheel can interfere with the riders heel during sharp low-speed turns. Sharp turns can still be made on recumbents with a lot of heel overlap. When ridden accordingly, heel overlap is not a problem but it can be annoying if the rider is not careful. Heel overlap is more of an issue when a mudguard is used. Mudguards can be damaged by careless heel overlap. Some short-wheelbase recumbents have less potential for heel overlap in their designs.
Short-wheelbase recumbents have very responsive and quick steering. Attention must be paid to the quick steering to avoid skittish behavior. Some people prefer quick steering and handling but most people would probably be well-off with the more mindless and stable steering of a long-wheelbase bike.
Some people have suggested that the long-wheelbase recumbent is ungainly and awkward when climbing very slowly up steep hills. Low-speed handling really depends on the design of the particular bicycle rather than whether it is a short or long-wheelbase bike. Similarly, some people claim the short-wheelbase bike climbs better than the long-wheelbase bike. Again, climbing efficiency is a product of the particular frame and the riders cycling style rather than whether the bicycle is a short or long-wheelbase per se.
Another issue that comes up on bike shop sales floors is the difference in speed between long and short-wheelbase recumbents. One determinant of maximum speed at a given power output will be frontal area. Frontal area is one aspect of wind resistance. A very laid back lowracer with a high bottom bracket and a low seat (such as the M5 lowracer from the Netherlands) has a very small frontal area. Only an actual street luge will have a smaller frontal area. However, frontal area is not the only determinant of speed.
There is an argument to be made that having a bottom bracket higher than the seat (which is the usual configuration of a short-wheelbase recumbent) reduces power output because the cyclist in the short-wheelbase configuration is essentially pedaling upwards in a position that the human physiology does not normally associate with self-propulsion. That is, some people suggest that because the short-wheelbase pedaling position is unnatural, it must therefore be slower. Indeed, some people may not adapt to the high bottom bracket on a short-wheelbase bike and they will be slower. However, by and large, the human body is very adaptable and no one has actually proven that short-wheelbase bikes are universally slower because of the high bottom bracket.
Bicycle speed records have been set on both short-wheelbase and long-wheelbase recumbents. However, most people are not superhuman athletes travelling well over posted freeway speed limits and other factors come into play for everyday cycling.
Some people report that they are faster on a long-wheelbase recumbent with a bottom bracket that is lower than the seat. That bike will have a larger frontal area than a short-wheelbase bike with a high bottom bracket. The higher speed on the long-wheelbase bike could be the result of aerodynamic factors other than the simple frontal area measurement. The higher speed could be a result of the physiological advantage of the lower bottom bracket. The higher speed could be the result of the fact that long-wheelbase bikes have a direct chainline (on the drive side) that is not encumbered by the idlers that are common on the drive side of short-wheelbase bikes. Many long-wheelbase bikes sport a front fairing, which has been found to decrease aerodynamic drag at higher speeds (the fairing also offers weather protection).
At the speeds that most people cycle everyday, the difference in the coefficient of drag between different types of recumbents is not really going to make much of a difference. Wind resistance plays a smaller part at lower speeds. What may really make one person go faster than another is just how comfortable they are with their particular bike and how accustomed they are to the high bottom bracket on a short-wheelbase model.
Some people prefer the more heads-up, upright seating position on a long-wheelbase bike with a low bottom bracket. Some people prefer a lower bottom bracket for stop-and-go traffic. Many people prefer the confidence-inspiring ride and handling characteristics of a good long-wheelbase recumbent, under any circumstance.
Most reports of recumbent speed differences should be taken with a grain of salt. Some reports are made by people who don't actually ride very much. Some are made by people who ride slowly between pastry shops. Some are made by people with peculiar sensitivities, medical conditions and injuries. Some are made by people who just didn't stick with one bike long enough to acclimate to it. Most speed reports are completely subjective and very unscientific. The truth is that most people can make a good long-wheelbase recumbent go as fast as they like with a fairly short learning curve. What really makes a bike fast is the rider, not just the equipment.
When purchasing a bike everyone should ask themselves what they are really going to use it for. If you want a practical bike for touring and commuting without having to worry about being terribly fit then you should purchase a bike that suits that purpose. If you are planning on breaking a land speed record then you should purchase a bike for that purpose and you should keep in mind the time and effort that will be necessary to achieve the level of fitness of a full-time superathlete who does not have a regular job.
If you are comfortable on the bike, you will ride further and enjoy the experience more.