Introduction: Bicycle Design & the Recumbent Bicycle
The bicycle is the perfect transducer to match man's metabolic energy to the impedance of locomotion. Equipped with this tool, man outstrips the efficiency of not only all machines but all other animals as well.

Ivan Illich, Toward a History of Needs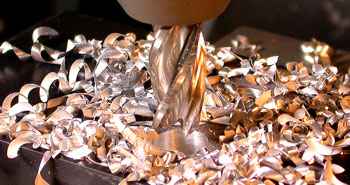 Photo: Milling tooling plate for a bicycle frame welding fixture.

The bicycle is the most efficient form of transportation on earth. A cyclist can travel great distances with the smallest consumption of natural resources. The bicycle is also one of the most complex design challenges that an engineer could face. There are a multitude of constantly changing, uneven and inconsistent forces exerted on various bicycle parts. Each bicycle part must be reduced in weight to a higher increment than any other transportation product.

In many ways, it is easier to design a Formula One racing car or a corporate jet than it is to design a bicycle. There is a lot more leeway to add extra material in a car or a jet. Cars and jets are also more amenable to Finite Element Analysis. Bicycles are subject to such complex and variable forces that the bicycle can really only be designed through trial and error and not just by computer modeling.

Interestingly, most of the best bicycle designers have not been professional engineers because engineering doctrine really reaches its limits in the structure of a bicycle. Intuition and experience have been shown to be the best prerequisite to good bicycle design.

The upright tandem bicycle has enjoyed a long and somewhat slow developmental history to the point where the upright tandem frame has been essentially perfected by several dedicated tandem manufacturers that specialize in tandems. Recumbent bicycles have been around for a long time but a lot of the development for tandem recumbents has taken place very recently and very quickly. There are now several types of recumbent tandems that are essentially developmental.

Tandem recumbent consumers have not yet drawn preferred standards for designs although several recumbent tandem manufacturers have rendered their own developmental version of perfection.

Recumbents have recently achieved a degree of mainstream appeal because they have reached such a high stage of development. Generally, recumbents had been, for a long time, the exclusive province of tinkerers seeking a faster and more efficient bicycle unrestrained by the conventions of the upright bicycle. Many recumbents now on the market are so simple and reliable that anyone can own and maintain one. However, unlike upright bicycles, recumbent bicycles are available in several different configurations. A recumbent purchaser has the freedom to decide which configuration they prefer and that decision requires a certain amount of background information which is discussed here.