Welcome to TALU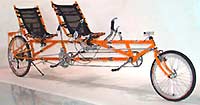 Photo: Longbikes Duplex (based on Dick Ryans' 1992 Fleetwood Tandem - the first production tandem recumbent).

This website provides general information to prospective purchasers of tandem recumbent bicycles. The information is also intended to satisfy general curiosity about tandems and recumbents.

The index in the sidebar is listed in the order that you may wish to read each page consecutively.